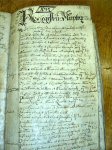 The Wakefield & District Family History Society was formed in 1997 by a small group of people in order to further their interest in family history. We have since grown to a membership of around 500 from around the world.
The objective of the Society is to advance public education in Family History and Genealogy for the benefit of anyone living in the area of the Wakefield Metropolitan District Council or with interests or family in that area.
To fulfil this aim we organise regular monthly meetings with speakers on a variety of topics, training courses and visits to places of interest to family historians. All members receive a quarterly journal, "The Wakefield Kinsman".
We also transcribe and publish a wide range of records from parishes, censuses, trade directories, newspapers and other sources which provide invaluable information for those researching their family.
Click here to view a map of the area covered.
The meeting for May 1st Dr. Emma Storr, a GP and Honorary Associate Professor at Leeds University, will give a talk ' Factories and Fevers: 19th century child health.' She will explore the experiences of children living close to and working in the Factories and Mills of 19th century Leeds. There were two main dangers to child health: hazardous work they carried out and living in poor, overcrowded conditions. The results could be high infant and child mortality. Dr. Storr will show how some improvements were made through legislation that was encouraged by Leeds physicians and local MPs.
The meeting will start at 10.30am by Zoom.
NB  Members of Wakefield Libraries can access for free  Ancestry Library Edition which has been extended until June 2021.  Log on to Wakefield Library;  enter your card number and pin number then click on Digital library to access the relevant websites. Good luck!