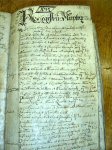 The Wakefield & District Family History Society was formed in 1997 by a small group of people in order to further their interest in family history. We have since grown to a membership of around 500 from around the world.
The objective of the Society is to advance public education in Family History and Genealogy for the benefit of anyone living in the area of the Wakefield Metropolitan District Council or with interests or family in that area.
To fulfil this aim we organise regular monthly meetings with speakers on a variety of topics, training courses and visits to places of interest to family historians. All members receive a quarterly journal, "The Wakefield Kinsman".
We also transcribe and publish a wide range of records from parishes, censuses, trade directories, newspapers and other sources which provide invaluable information for those researching their family.
Click here to view a map of the area covered.
WDFHS 6th November meeting – USING DISCOVERY – Dr Phil Judkins
We all – well, many of us – know that Discovery is the Catalogue of the National Archives at Kew.
But how many of us really tap into its richness?
In his talk, Phil takes us through real examples of how the Discovery Catalogue can be used yo its fullest as he tells us how he is using it for the Historical Society's research to help the Westgate heritage Action Zone, HAZ, project, and separately how Discovery helps with the cataloguing of John Goodchild's huge archive at the Kirkgate History Centre.
Phil takes you through the discoveries he has made about the Westgate Railway station – where in Victorian times you would have been greeted with not one ticket collector, but two, depending on whose train you had stepped from – and talks about railway staff and their jargon. We move up Westgate and find out what the school inspectors thought about standards at the street's schools.
Next, we look at finding out when and why many of Westgate's yards vanished – and then we admire some of the huge collections of photographs held at the National Archives. We leap back to 1662 and the wonderfully-named Courts of Chancery – the Six Clerks Office, and further back still, to 1382 and the Office of First fruits and Tenths. What are they? Sign in to Phil's talk, and find out!
We look forward to seeing you there for these and many more revelations in 'Using Discovery', by Phil Judkins