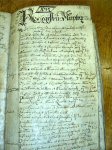 The Wakefield & District Family History Society was formed in 1997 by a small group of people in order to further their interest in family history. We have since grown to a membership of around 500 from around the world.
The objective of the Society is to advance public education in Family History and Genealogy for the benefit of anyone living in the area of the Wakefield Metropolitan District Council or with interests or family in that area.
To fulfil this aim we organise regular monthly meetings with speakers on a variety of topics, training courses and visits to places of interest to family historians. All members receive a quarterly journal, "The Wakefield Kinsman".
We also transcribe and publish a wide range of records from parishes, censuses, trade directories, newspapers and other sources which provide invaluable information for those researching their family.
Click here to view a map of the area covered.
For our December4th meeting Phil Judkins will give a talk on 300years of the history of Westgate, a street with a thousand voices telling stories – from merchant princes and their grand houses covering the dark deeds; one of their gentlewomen a mill boss in her own right; Wakefield's riots on election nights and Bonfire night; their blood sports; and the day a bear broke loose from from the zoo the society shoemaker and his young heiress; what's behind the mysterious Green Door; the Scottish conman who who invented an entire country – and as it's Christmas – a ghostly beast pursued by the hounds of hell. All these and many more will figure in Phil's talk.