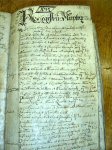 The Wakefield & District Family History Society was formed in 1997 by a small group of people in order to further their interest in family history. We have since grown to a membership of around 500 from around the world.
The objective of the Society is to advance public education in Family History and Genealogy for the benefit of anyone living in the area of the Wakefield Metropolitan District Council or with interests or family in that area.
To fulfil this aim we organise regular monthly meetings with speakers on a variety of topics, training courses and visits to places of interest to family historians. All members receive a quarterly journal, "The Wakefield Kinsman".
We also transcribe and publish a wide range of records from parishes, censuses, trade directories, newspapers and other sources which provide invaluable information for those researching their family.
Click here to view a map of the area covered.
The story of First World War deserters who were shot at dawn has often been told, but those 306 soldiers represent a tiny proportion of deserters. More than 80,000 cases of desertion and absence were tried at courts martial on the home front. Andrea describes the deserters who disappeared from camps and barracks within Great Britain at such an alarming rate.
She reveals how they employed a range of strategies in order to survive. Their reasons for desertion varied. Some were already living a life of crime while others were conscientious objectors who refused to respond to their call-up papers.
In November 2019 Andrea told us about British widows of the First World War. This time she examines a very different aspect of the conflict. Her talk gives a new perspective to the question 'What did your relative do in the Great War?