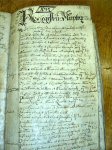 The Wakefield & District Family History Society was formed in 1997 by a small group of people in order to further their interest in family history. We have since grown to a membership of around 500 from around the world.
The objective of the Society is to advance public education in Family History and Genealogy for the benefit of anyone living in the area of the Wakefield Metropolitan District Council or with interests or family in that area.
To fulfil this aim we organise regular monthly meetings with speakers on a variety of topics, training courses and visits to places of interest to family historians. All members receive a quarterly journal, "The Wakefield Kinsman".
We also transcribe and publish a wide range of records from parishes, censuses, trade directories, newspapers and other sources which provide invaluable information for those researching their family.
Click here to view a map of the area covered.
Lorraine Simpson has transcribed the diaries of a Quaker relative, John Edward Bowman, born 1868 who recorded his life in great detail from 1884. Her book is due to be published soon. Lorraine will talk about the part of this draper's life in which he lived in Wakefield. John came to Wakefield to work in a Quaker relative's two drapers' shops in Wakefield and by 1898 John had bought his own shop on Doncaster Road opposite the cemetery. He recorded many local events and also mentioned local people. He was a family man  with four children and was active, enjoying cycling and travelling by train. The talk will be held the 4th June.